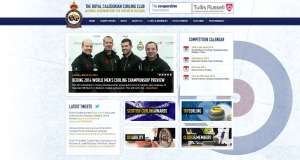 To visit just CLICK on the above image
 And for other COMPETITIONS from around Scotland and further afield click here.
BACKGROUND
Extracted off the RCCC  site:
"The Royal Caledonian Curling Club (RCCC) is the National Governing Body for Curling in Scotland. With approximately 13,000 members in over 600 clubs it is one of the largest governing bodies of sport in Scotland.
Curling is a game which is played and enjoyed in communities across Scotland and is renowned for its proud history, traditions and great friendships. Participating in sport can improve the quality of life of individuals and communities, promote social inclusion, improve health and raise individual self-esteem and confidence. We are committed to promoting the sport and increasing participation levels among all ages, sexes and abilities.
Our mission is to develop a robust infrastructure of clubs and facilities that will support the growth of the sport, increase the number of people who enjoy curling in Scotland and sustain medal success at world class levels"
STRUCTURE (Oct 2015)