BACKGROUND
The PRESIDENT'S PRIZE competition is normally played in the fist half of the Season and over the last few years in a league format with the highest up Rink in points (and Shots if required) the overall winners.
As the name of the competition implies the winners are awarded a suitable prize selected by the current President.
And if you would like to checkout Previous Winners and Standings click on the relevant TAB below.
TABLES – By Season
Presidents – STANDINGS
Competition – RULES
Posts – DEC_15
HISTORY
Inscribed on the Trophy Handles:
"Lanark Curling Club
Presidents Prize
1953
R Barrie"
The President's Prize has been played for for many years within the Club. It is not known if there was a trophy as such to be presented to the wining Rink at prize giving. However following the return to the Club of two outside stones curling handles by Miss Mary Paton of Lanark, which had previously which been presented to club member R Barrie in 1953 as a PRESIDENT'S PRIZE it was decided to utilise these to form the basis of a new trophy. (See Lanark Rocks – 09#1 (to be added ) for a fuller explanation of the return of these handles)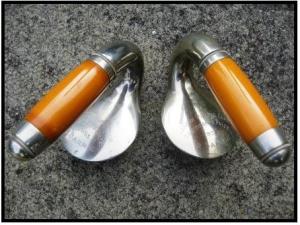 This was undertaken by Club members Jack & Anne Hood and presented to the Club at 2009/10 Prizegiving.