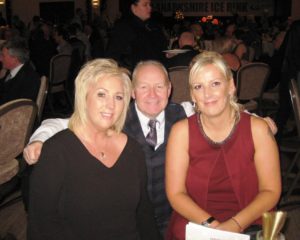 Some of the LIR Team – Kathleen (Bar), Jim (Ice) and Janette (Admin)
Click on the PICTURE
After all the planning, the Gala Dinner (to celebrate LIR's 50th year) was duly held on 25th November 2017 and what a night it was!  Chairman, Mr Jimmy Raeburn, MC'd the evening, starting off by thanking everybody for coming.
Special thanks were given to the ladies who organised the evening/booklet and souvenirs ie Marion Craig, Helen Drummond, Fiona Moffat, Alison Taylor and Janette Sherren.
Our first speaker was RCCC Vice-President, Mr Graham Lindsay followed by the main speaker of the evening – Mr Andy Cameron.  We could all remember Andy from our childhood days and he remained as funny as ever.  He had the whole audience in rapture with his one-liners, his stories/jokes about Glasgow and when he targeted some members of the audience, well, nothing was held back!
A staggering 373 people were in attendance and, when you know most of them, you can imagine how quickly the time flew by with all the socialising that took place.
Lanark Curling Club was represented across two tables: Anne/Jack Hood, Anne Ramsay, Dorothy/Gregor Noble, Jane/Bob Thomson, Hugh Campbell, Marilyn/Frank Caddell, Dorothy/Bill Jackson and Lorna/Eric Gray.
Happy Birthday Lanarkshire Ice Rink….
Jack & Anne Hood
……….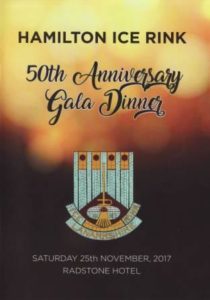 And CLICK on the above graphic to view the booklet produced for the evening. A great history.