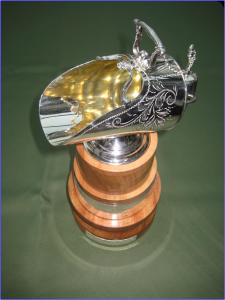 Heatlie Silver Scuttle:
WILSON HEATLIE was a great supporter of our Club and donated the above trophy to be competed for at our annual trip to the North West Castle.
Unfortunately we do not have enough support for the annual trip to Stranraer, so the trophy is now sitting in its case unloved and unused.
I am sure that Wilson would have been delighted if we could find a way of utilising the trophy within our club to replace the NWC competition.
With this in mind the committee agreed that we could run a mini competition with the Heatlie Silver Scuttle as the prize.
We are looking for 16 members to make up 4 rinks to play in a knock out with the two winning rinks going on to play for the trophy on another evening. This will keep it nice and simple and not very onerous on our time. We plan this to take place in January.
Please let Iain Cogle know if you wish to take part in the competition to enable rinks to be drawn up and allow us to book ice at a suitable time