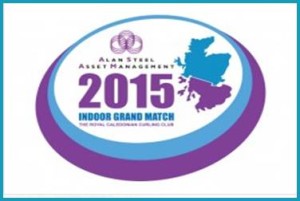 Also see the write-up in LANARK ROCKS_16#2. Sign-in HERE
26/11/15 – JH
And the Perth Photo –
21/11/15 – JH 
Grand Match Photos taken at the LIR are now available to view HERE
30/10/15 – BS
Hi all
Saturday the 24th at Hamilton ice rink.
Lanark played in the Grand Match at Hamilton with the following members, Donald Macrae (DM), Brian Stephenson (BS),Bill Tennant (BN), and Anne Macrae (AM). We played Nairn and I am happy to say we won 9v5.
The game started at 3.30pm but our Donald had been down at the rink from 9am, he was the rink piper. This was my first time and I have to say how much I enjoyed the day and the competition.
As with tradition after each round of piping Donald was given a large dram,so by the time he was playing let's just say he had a nice glow to his face. After four ends we had the chance to sample the famous Clyde Steamer, what a drink that is. After the match I agreed to give Donald and Anne a lift home and by the end of the night Donald was Lanarkshire Clyde Steamer.
A very fun and enjoyable day.
Regards Brian 😉
30/10/15  – EDIT – JH
In the next edition of LANARK ROCKS_16#2 there will be a fuller write-up from Hamilton, Perth and Dot (DO) at Braehead along with photographs.
24/10/15 – AH
Hi all!
A successful win for the The South 🙂 The full RCCC write-up & results can be found HERE . And an article is to follow in the next edition of the 'Rocks' from a Lanark CC perspective.
08/10/15 – AH
Hi
The following members will represent Lanark CC at the Indoor Grand Match on Saturday 24 October 2015.
At Hamilton (3.30pm):
Donald and Anne MacRae, Brian Stephenson and Bill Tennant
At Perth (3.30pm):
Bob Thomson, Alistair Mackintosh, Anne Hood, Frank Caddell
I have enclosed a LETTER from Hamilton Ice Rink (guess somebody sent out the wrong letter!)…..
The cost for each player will be £30 each – can Donald and Bob please collect for your rinks? Bob has already paid this invoice to RCCC so he's looking for the funds back (hi hi).
Thanks to all those members for representing Lanark.
Good luck in your match but, the most important thing of the day, HAVE FUN!!!!
Rgds
Anne