13/11/14 – AH
It was so, so close today when Lanark CC participated in the annual competition, Lawrie Trophy. Lanark 1 (Bill Jackson, Bob Thomson, Alistair Mackintosh, Frank Caddell) finished +3 and Lanark 2 (Tom Steele, Brian Stephenson, Miller Bowie, Jack Hood) finished +10. Our total score of +13 equalled that of Dippool CC so it went to the number of ends won. Lanark had won 9 ends – Dippool had won 10 ends!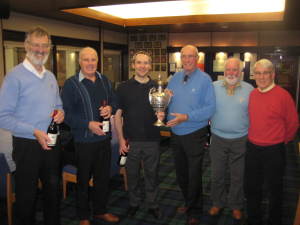 2104 LAWRIE TROPHY WINNERS – DIPPOOL CC 
Oh boy – what a finish.
Many thanks to all the members (named above) who represented the club. Talk about being pipped at the post!
Best wishes
Anne  AH
😉
And Checkout more about the LAWRIE TROPHY here and a fuller write-up on LANARK LIFE